Retail Insider is expanding its reporting content to include briefs with several topics, in addition to our regular reporting. Below is our first Brief, which includes retailers that are opening, as well as a retailer that recently filed NOI under the Bankruptcy and Involvency Act.
Bulgari to Open 1st Vancouver Boutique: Italian luxury jeweller Bulgari will unveil its first Vancouver boutique this fall at Holt Renfrew in CF Pacific Centre. The concession will be located on the ground level of the store's accessories hall, alongside brands such as Links of London, Tiffany & Co. and Louis Vuitton. Vancouver's Holt Renfrew is undergoing an extensive renovation that will be completed in 2018.
Bulgari opened its first (and currently only) standalone Canadian boutique at Toronto's Yorkdale Shopping Centre in the winter of 2014. The Vancouver location will be the second official boutique in Canada, and the brand is also carried in a handful of upscale jewellery retailers nationally.
COS Opens at Mississauga's Square One: H&M's upscale fashion brand COS, which stands for 'Collection of Style', has opened a 5,060 square foot store at Square One in Mississauga. The store is located in the mall's 'luxury wing', alongside Tory Burch, Rolex and Ferragamo stores, and across the hall from the mall's 140,000 square foot Holt Renfrew store, which opened in the summer of 2016.
It's the fifth Canadian location for COS, and more locations are in the works. COS opened its first Canadian store in September of 2015 at 85 Bloor Street West in Toronto, and it also operates stores at 1310 Ste-Catherine St. W. in Montreal, at 18 Water Street in Vancouver, and at Toronto's Yorkdale Shopping Centre.
Bailey Nelson Begins Canadian Corporate Store Rollout: Australian eyewear retailer Bailey Nelson is in the midst of its corporately-run Canadian store rollout. Its first Canadian location opened earlier this year at 1135 Robson Street in Vancouver, followed by a second location at 2169 W. 4th Avenue in Kitsilano. A third store also opened last week at 202 Carrall Street in Gastown. Martin Moriarty and Mario Negris of CBRE Vancouver negotiated the Vancouver deals.
Toronto is next for Bailey Nelson, with a first location confirmed to be opening this fall at 732 Queen Street West. Bailey Nelson is working with CBRE Toronto Urban Retail Team under the direction of Jackson Turner, Arlin Markowitz, and Alex Edmison for the Toronto rollout.
Prada Mink Mile Flagship Overhaul Nears Completion: The Prada store at 131 Bloor St. W. in Toronto is nearing the completion of a substantial expansion and renovation. The 5,889 square foot store recently gained a second level, resulting in a 13,600+ square foot space which is now being renovated with Prada's latest design, including glossy black-and-white checkered flooring on the main level, and luxe furnishings throughout -- similar to Prada's impressive 8,200 square foot Vancouver flagship that opened in the spring of 2016.
Prada also continues to expand its Canadian operations with shop-in-store concessions -- the Vancouver Holt Renfrew accessories concession was recently revamped, and plans are in the works for Holt's on Bloor in Toronto, as well as an eventual new location in Montreal when Holt Renfrew merges with Ogilvy. Prada also opened a concession at Saks Fifth Avenue's Canadian flagship in downtown Toronto in the spring of 2016.
West Edmonton Mall Secures Tenants for Target Space: North America's largest mall is getting a few new tenants, following Target's exit from the mall in the spring of 2015. According to signage, the ground floor of West Edmonton Mall's former 126,000 square foot Target will feature a combined Winners/HomeSense store, spanning more than 62,000 square feet. On the second level of the former Target space, retailer buybuyBABY will open a 23,300 square foot store — the remaining 36,260 square feet on that level is currently occupied by a temporary location for Halloween Alley.
The mall's current Winners location will be replaced with a Marshalls store, according to West Edmonton Mall. Both Winners and Marshalls are owned by TJX Companies. West Edmonton Mall is also seeing other tenants which will be discussed at length in a separate article.
Mountain Warehouse Continues Rapid Canadian Expansion. Next Stop: West Edmonton Mall: North America's biggest mall is also going to become home to UK-based outdoor retailer Mountain Warehouse this fall, which has been quietly and rapidly opening stores nationally. The company has opened six stores in Canada this year under the direction of broker Patricia Scrivener of Northwest Atlantic, for a total of 32 stores nationally -- not bad, considering that Mountain Warehouse opened its first Canadian store in 2013.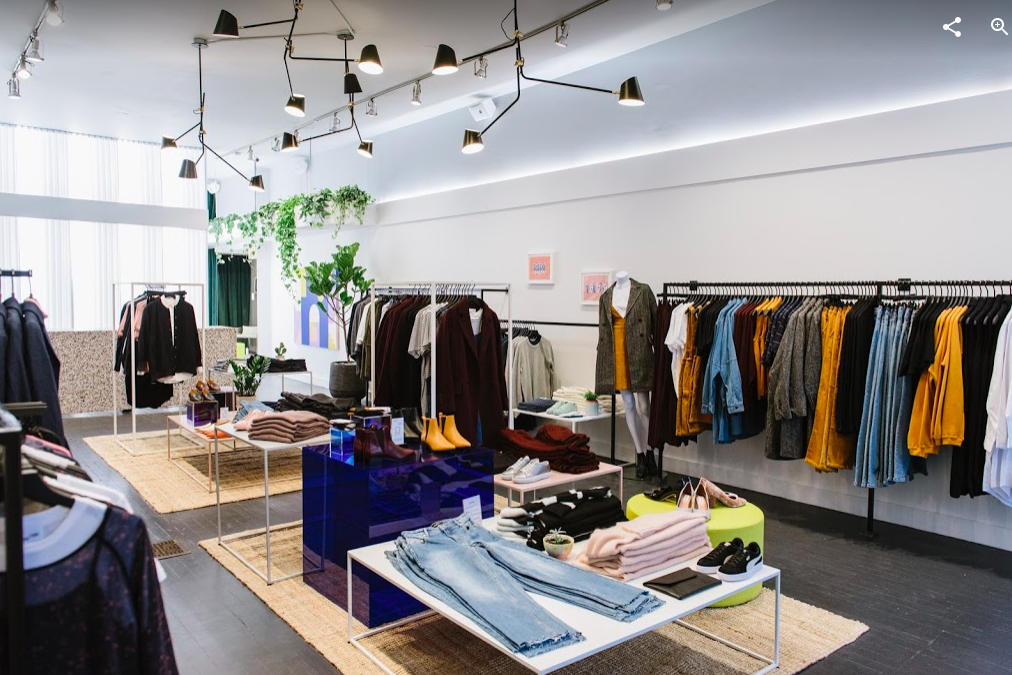 Frank and Oak Opens 2nd Women's Store: Montreal-based fashion retailer Frank and Oak opened its first standalone women's store in September in Montreal's 'Mile End'. Last week, a second one opened on Toronto's trendy Queen Street West. The Toronto store is about 1,000 square feet, and Oberfeld Snowcap handles its real estate.
Frank and Oak, which launched its women's collection in 2016, began as an online men's clothing retailer and subscription service in 2012, focused on providing "elevated basics" for millennial customers. The company has since opened more than a dozen brick and mortar stores throughout Canada and the U.S.
(See slideshow above for multiple images of the new Toronto store)
Spareparts Files NOI: According to newsletter Insolvency Insider, Saskatoon-based accessory/sunglasses/watch retailer Spareparts has filed a Notice of Intention after incurring substantial debt. Two of its companies filed NOI's on October 2 and 3rd, respectively listing $6.3 million and $7.1 million in liabilities, including $3.9 million owed to RBC. Other creditors include Fossil, Oakley, Matt & Nat and The North Face, according to Insolvency Insider, which also notes that BDC is the second position lender, while KPMG is the proposal trustee. Law firm McCarthy Tétrault is acting as legal counsel for the company, and Torys LLP is acting on behalf of the proposal trustee.
Spareparts rapidly expanded to 21 stores in Saskatchewan, Alberta, BC, Manitoba and Ontario, with some beautiful retail spaces in some of the country's top malls.
From KPMG: On October 2, 2017, 1031084 Alberta Ltd. filed a Notice of Intention to Make a Proposal (the "NOI"), pursuant to Section 50.4(1) of the Bankruptcy and Insolvency Act. On October 3, 2017, 623735 Saskatchewan Ltd. filed an NOI pursuant to the same legislation. 1031084 Alberta Ltd. and 623735 Saskatchewan Ltd. are herein referred to together as the "Company" and KPMG Inc. ("KPMG") has consented to act as Trustee under the proposals.
The NOI provides a stay of proceedings against the Debtors for 1031084 Alberta Ltd. until November 2, 2017 and for 623735 Saskatchewan Ltd. until November 3, 2017. [Subscribe to Insolvency Insider]