By Mario Toneguzzi
Next August, CrossIron Mills will celebrate its 10th anniversary as it has defied many initial doubters who thought the shopping centre concept would struggle with its location just outside of Calgary's city limits.
But the 1.1 million-square-foot mall, on one level with about 220 stores, has authored a huge success story since it opened its doors in August 2009 in the Balzac area of Rocky View County along the Queen Elizabeth II Highway.
"CrossIron Mills has evolved into a retail powerhouse in 10 short years and is one of the top tier shopping centres in Western Canada," said Michael Kehoe, an Alberta-based retail specialist with Fairfield Commercial Real Estate in Calgary. "Mall owner Ivanhoe Cambridge has successfully adapted the American-style 'Mills' concept to several markets across Canada and CrossIron Mills stands out as a major success story.
"The shopping centre is a true regional draw with its unique tenant mix and Bass Pro Shops that attracts shoppers from as far away as Saskatchewan and eastern British Columbia. The Calgary Ring Road highway system makes the centre accessible to the majority of Calgarians. The entire Balzac commercial node in Rocky View County with CrossIron Mills as the centrepiece is experiencing a robust development phase with new large format retailers and amenity projects such as hotels and new restaurants under construction or in the final planning stages."
James Moller, general manager of CrossIron, said the mall is 98.4 per cent occupied and at the end of the year it will be at 99.1 per cent occupied.
"That's the highest ever," he said.
As an example of the mall's growing popularity, Moller cites an interesting number. The traffic in August was higher than last December. August had close to 1.1 million visits to the mall while December 2017 was just over one million.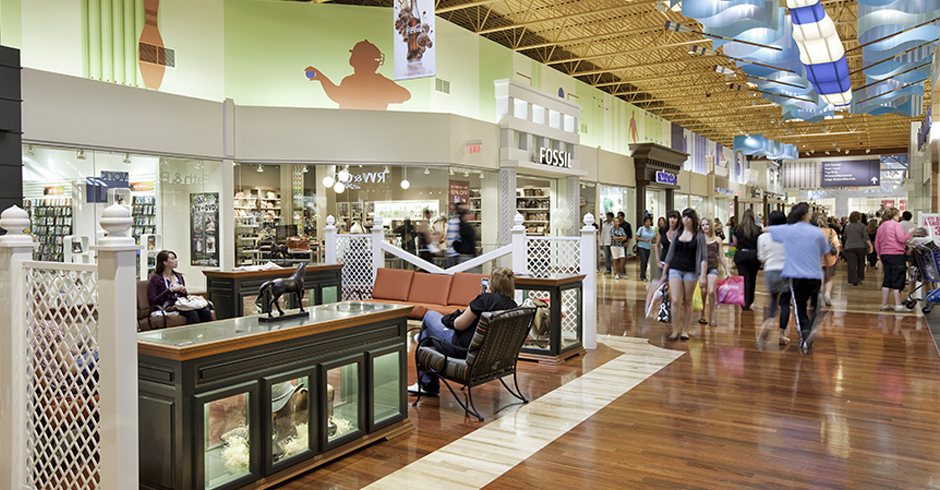 "It was a combination of a few things. July traffic was a bit soft. We all remember July. The weather was fantastic. We didn't have the smoke (from the B.C. wildfires). I think everybody was really enjoying being outside," said Moller. "August we had the smoke roll in over Alberta and I think people were looking for getting out of the heat and out of the smoke. That was a good portion of that. We had some new stores open up.
"August traffic was up almost 12 per cent. Sales were up 11.4 per cent from a year ago."
New stores recently opened include the Sketchers superstore turning into an anchor store for the mall at about 20,000 square feet. Asics shoes opened in September. Kate Spade New York is also a fairly new store in the mall. Earlier in the year Aritizia, Vintage Caffeine, Auntie Anne's Pretzels and the Miniso Japanese dollar store were also new additions to the mall.
Moller said Aldo has relocated in the mall as it built a brand new store.
"As part of the 10-year anniversary next year we have lots of people doing renovations. We have Van's Shoes doing renovations to its store. We have Kernels Popcorn doing their store. La Vie En Rose is renovating their store and adding Bikini Village to that. We're excited about that," said Moller.
Across the street from the mall, McDonald's is opening a new location and drive-thru which will open in the spring of 2019.
CrossIron Mills will also be installing a centre-wide new Christmas decor program in mid-November.
"It's a new theme. There's installations everywhere. We're adding more than we've ever had. Some of the areas and the wings in the shopping centre didn't have Christmas decor in previous years. So that is happening."
For the holiday season, CrossIron will have its shopping shuttle system in place to bring shoppers out to the centre from four locations in Calgary - the Brentwood LRT Station, the Southland LRT Station, the Calgary Tower and the Calgary International Airport.
While CrossIron Mills is busy preparing for the busy holiday season, thoughts of next August and its 10-year anniversary are also dancing in the heads of the mall administrators.
"It's a big year. We're already in the planning stages for the anniversary. We're working through that marketing and planning for a spectacular event to mark the 10th anniversary on August 19, 2019. So it's a little less than a year away and we're excited about that," said Moller.
Mario Toneguzzi, based in Calgary has 37 years of experience as a daily newspaper writer, columnist and editor. He worked for 35 years at the Calgary Herald covering sports, crime, politics, health, city and breaking news, and business. For 12 years as a business writer, his main beats were commercial and residential real estate, retail, small business and general economic news. He nows works on his own as a freelance writer and consultant in communications and media relations/training. Email: mdtoneguzzi@gmail.com