By Craig Patterson
US-based women's luxury fashion brand St. John Knits will open a standalone storefront on Toronto's Mink Mile. It will be the second standalone St. John boutique in Canada, joining a Vancouver store that has operated in the city for years.
The Toronto St. John boutique will open in a 2,500 square foot retail space at 130 Bloor Street West, located between Gucci and Intermix. The space that St. John will move into was once occupied by French luxury brand Hermes before it relocated to a flagship space nearby in late 2017. Most recently, athletic brand Peloton occupied the same retail space temporarily before finding a permanent location across the street.
Dianne Lemm of brokerage JLL co-brokered the deal with Hanna Struever of Retail Portfolio Solutions. Kingsett Capital is the landlord of the property.
St. John Knits is popular amongst the 'ladies who lunch' set and its location on Toronto's Mink Mile could be very successful as a result. The stretch of Bloor Street between Yonge Street and Avenue Road is home to several luxury brand flagship stores as well as Holt Renfrew's corporate flagship location. The St. John brand is known for its classic wool and rayon knits that include Chanel-inspired jackets and extensive use of primary colours.
Vancouver was the first city in Canada that St. John knits opened a standalone storefront more than 15 years ago. Its first location occupied the Burrard Street and West Georgia Street corner of the retail podium of the Fairmont Hotel Vancouver. St. John relocated to a 3,000 square foot space in the Fairmont Hotel Vancouver with its main entrance from within the hotel and with window frontage onto Hornby Street in the spring of 2014— the space was once home to Griffins restaurant. French luxury brand Dior ended up taking the corner retail space formerly occupied by St. John, as well as an adjacent retail space, service desk and second level space to create a jaw-dropping 9,600 square foot Dior flagship that opened in the summer of 2015.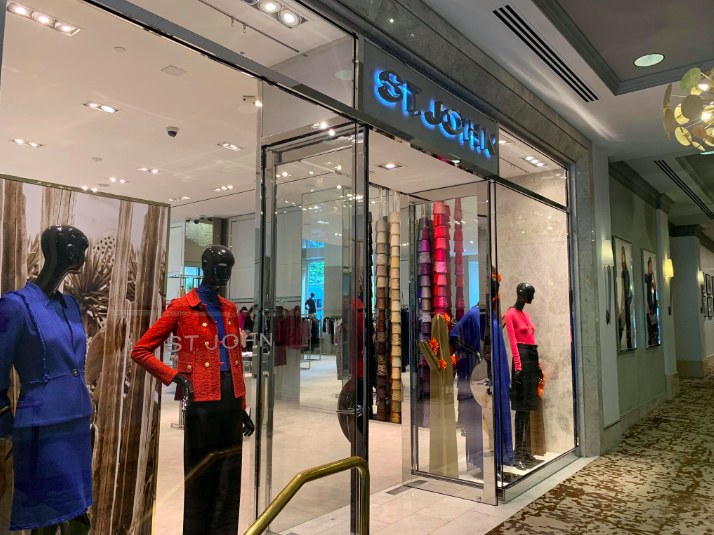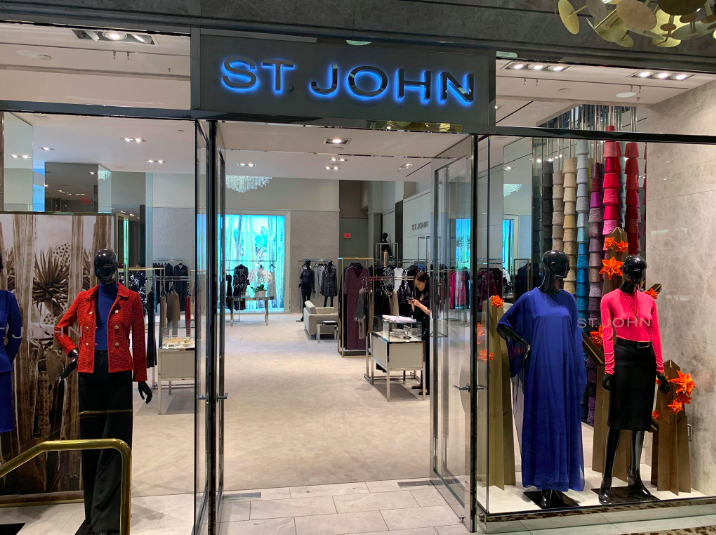 The St. John brand is headquartered in Irvine, California, and was founded in 1962 by model Marie St. John and her husband, Robert Gray. While modelling in Los Angeles, Ms. St. John hand-knit straight skirts and matching short-sleeved tops to wear, and her fellow models began wearing the designs. Robert Gray, who was Ms. St. John's fiancé at the time, showed the collection to retailer Bullocks, who picked up the line by ordering 84 dresses. St. John grew quickly as women embraced the fashion line, with knit designs that proved to be flattering to a wide range of body types.
German fashion brand Escada bought an 80% share of St. John in 1990 for $45 million. St. John used the money to launch a US boutique expansion and in 1993, St. John became a publicly owned company. Daughter Kelly Gray became CEO of the company after Robert Gray's retirement in 2002 and Kelly was also the face of the brand for a time as a model in various advertisements. St. John was purchased by a private equity firm in 2005 and after a couple of years away, the Gray family returned after St. John experienced declining sales in their absence.
St. John Knits was once a staple brand in upscale department stores throughout the United States, as well as at prestigious multi-brand retailers. Jacobson's, Lord & Taylor, I. Magnin, Elder-Beerman and others carried the line for years, while many Nordstrom stores in the United States featured dedicated St. John departments that were among the most productive spaces in Nordstrom stores. While the St. John brand isn't as broadly distributed as it once was, it still has a following and can be found in prestigious retailers globally.
Nordstrom still carries the St. John line, including in Canada in Nordstrom's CF Toronto Eaton Centre store. Hudson's Bay also carries St. John in women's luxury department 'The Room', which can be found in Bay flagships in Toronto and Vancouver. Canadian retailer Holt Renfrew also once carried an extensive assortment of the St. John brand.
St. John's move onto Toronto's Mink Mile indicates confidence in the area. Other major luxury brands are also making investments on Bloor Street West. Dior has just opened its largest storefront in North America across the street from St. John in 'The Colonnade' at 131 Bloor Street West, and the Gucci flagship next to the new St. John is also seeing an overhaul that will bring the 6,500 square foot store in line with Gucci's latest store branding. Hermes opened a beautiful flagship nearby at 100 Bloor Street West in November of 2017, and Harry Rosen opened a licensed Ermenegildo Zegna flagship next to it in December of 2018.
The same stretch of Bloor Street West is home to impressive flagships for brands such as Louis Vuitton, Tiffany & Co., Burberry, Prada, Dolce & Gabbana and others, and there are whispers that Valentino may open a flagship store nearby. Holt Renfrew, which operates a 190,000 square foot flagship store at 50 Bloor Street West, is also undergoing an overhaul that includes interior renovations and new leased concession boutiques, with a new store facade expected to be completed early next year. Yorkville Avenue, located two blocks north of Bloor Street West, has seen the addition of flagship locations for luxury brands including Chanel, Christian Louboutin, Off-White, Brunello Cucinelli, Versace and next month, Stone Island will open its first Canadian storefront.
Given Bloor-Yorkville's proximity to wealthy Toronto neighbourhoods including Rosedale, South Hill/Summerhill and Forest Hill, St. John Knits may have made a smart move by choosing to open at 130 Bloor Street West. The Bloor-Yorkville Area, itself, is home to an affluent population that is growing rapidly with the addition of several new residential condominium and rental towers. One challenge the area is currently facing is a lack of parking, which some retailers have said is resulting in challenging sales in the area. As more valet parking is added to Bloor-Yorkville, parking may become less of an issue and may give the area a boost as well as an edge as the area competes with Toronto's Yorkdale Shopping Centre for wealthy shoppers.
Now located in Toronto, Craig is a retail analyst and consultant at the Retail Council of Canada. He's also the Director of Applied Research at the University of Alberta School of Retailing in Edmonton. He has studied the Canadian retail landscape for the past 25 years and he holds Bachelor of Commerce and Bachelor of Laws Degrees. He is also President & CEO of Vancouver-based Retail Insider Media Ltd.